Quan Zeng
Gratis Faculty
---
Associate Plant Pathologist – Plant Bacteriology at The Connecticut Agricultural Experiment Station
Professional Credentials
Postdoctoral Research: Plant Pathology, 2014, Michigan State University
Ph.D., Microbiology, 2011, University of Wisconsin-Milwaukee
B.S., Biological Engineering, 2006, Nanjing Agricultural University
Areas of Interest
Microbiome-Plant-Pathogen Interactions
Plant Bacterial Diseases
Fire Blight
Research Projects/Interest
Plants secrete various nutrient rich exudates such as root exudates, guttation fluid, and nectar, that support the growth of various microbes. These microbes, including bacteria, fungi, oomycetes, and virus, together constitute the plant microbiome. Plant microbiome confers important functions such as growth promotion, stress tolerance, and disease resistance. In addition to the beneficial members, there are also pathogenic members within the microbiome that can cause disease infections. In our lab, we are interested to understand the interactions between plant microbiome with plant host, and with the pathogen, and how such interactions affect disease infections.  
We are investigating these questions in the context of fire blight disease and flower microbiome. Fire blight is a devastating disease of apple and pear, caused by a bacterial pathogen Erwinia amylovora. We aim to characterize the development, dynamics, communication, and functions of the microbiome on apple flowers and understand how the microbiome, through inducing host immunity and antagonizing the pathogen, suppress disease infection.  
Our applied research focuses on developing an integrated, organically approved disease management program for fire blight under humid climate conditions in Northeastern United States. Our lab performs field testing of various organic materials and biological controls, and different combinations, to achieve the highest disease suppressing efficacy with the minimal phytotoxicity to fruits.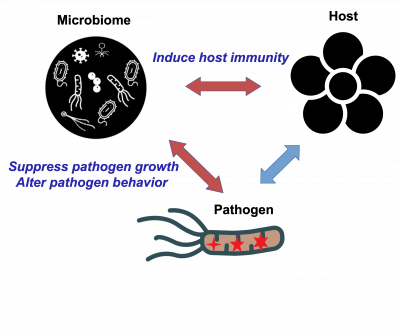 Currently accepting graduate students.
Websites
Quan Zeng, CT Agricultural Experiment Station
Quan Zeng Twitter 
| | |
| --- | --- |
| Email | quan.zeng@ct.gov |
| Phone | (203) 974-8613 |
| Mailing Address | The Connecticut Agricultural Experiment Station 123 Huntington Street New Haven, CT 06511 |