Dawn Pettinelli
Associate Extension Educator, Director of Home & Garden Education Center, Director of Soil & Nutrient Analysis Lab
---
Professional Credentials
Certified Master Composter, 2011, University of Rhode Island, Kingston, RI
Certified Master Gardner, 1986, University of Massachusetts, Amherst, MA
MS, Forest Science, 1984, Oregon State University
BS, Agricultural Production, 1977, Montana State University
BS, Natural Resources, 1973-1976, University of Massachusetts
Extension
Manages/coordinates activities of the UConn Home & Garden Education Center and the UConn Soil Nutrient Analysis Laboratory.
The UConn Home and Garden Education Center addresses the needs of Connecticut residents on a wide variety of topics including horticulture, soil testing, home pest control, environmental/pesticide issues and food safety. Clients are educated in best management practices for pest control, soil and water quality, and plant cultural techniques. The goal of the Center is to be a highly respected and visible education outreach program by providing accurate, thorough, and timely information to the citizens of Connecticut. The Center supports the Master Gardener Coordinators in the 8 counties and at the Bartlett Arboretum in Stamford by supplying program instructors and diagnostic assistance. The Center also administrates the UConn Master Composter Program. Visit our weekly horticulture blog Ladybug Blog or call our toll-free number with your gardening or pest questions: (877) 486-6271.
In 2006, the Center opened the UConn Plant Diagnostic Laboratory, currently managed by Dr. Nick Goltz, and which participates in the National Plant Diagnostic Network.
The UConn Soil Nutrient Analysis Laboratory functions dually, as an educational center that focuses on soil, soil fertility, and soil contamination issues and as a service laboratory that offers soil fertility testing to commercial agriculture producers, the green industry, homeowners, and researchers. Starting in 2007, the laboratory began testing soils for lead. Our goal is to increase the public's awareness of the benefits of soil testing and the necessity of environmentally sound soil fertility management programs. The lab also functions as a teaching resource where CAHNR graduate students learn to run their samples on sophisticated equipment and as a base for numerous outreach activities.
Activities to implement the goals of both facilities include educational presentations, press releases, fact sheets, displays, laboratory upgrades and protocol development, UConn Master Composter Program, television and radio, weekly newspaper columns, websites, free plant and soil pH clinics at events like the CT Flower & Garden Show, a weekly blog, monthly e-updates and development and participation in activities such as the UConn Work Life Expo.
Experience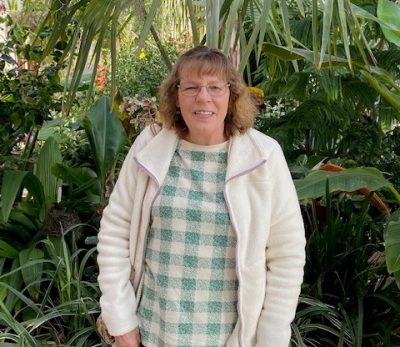 Associate Cooperative Extension Educator, University of Connecticut, Dept. of Plant Science & Landscape Architecture. 2020 – present
Teach SPSS 2110W – Sustainable Plant Pest Management Communication, 2019 – present
Designed & implemented Qualtrics survey for UConn Soil Nutrient Analysis Lab
Assistant Cooperative Extension Educator, University of Connecticut, Dept. of Plant Science & Landscape Architecture. 2005 – 2020
Responsible for administration of UConn Soil Nutrient Analysis Laboratory including daily operations, personnel management, equipment purchases and maintenance, financial obligations, collaboration with researchers, internet presence, program database, and related publications (lab processes 10 – 14,000 samples/year)
Developed and implemented plant and tissue analysis protocol at lab including brochure, reports and interpretation for growers and researchers
Collaborated with Access programmer to develop new soil test program with up to date and expanded recommendations, beginning 2009
Train and oversee graduate students using lab analytical equipment for their research
Answer 1000 phone, face-to-face and email inquiries annually
Responsible for administration of UConn Home and Garden Education Center including outreach activities, personnel management, internet presence public relations, reporting, financial obligations and related publications (Center receives 4000 inquiries/year)
Develop, refine and maintain Soil Lab and Home & Garden Education Center websites
Initiated, manage and contribute to weekly Center blog, beginning 2009
Initiated, write, publish and distribute monthly Center e-newsletter to >6000 recipients, beginning 2011
Write fact sheets, newspaper articles, brochures and press releases
Write, edit and solicit articles for UConn Home and Garden News, 2008-2017
Coordinate & staff UConn Center/Soil Lab/Master Gardener booth at CT Flower & Garden Show
Develop, administer and evaluate UConn Master Composter program, beginning 2009
Write, publish and manage mailing list of quarterly Master Composter newsletter, beginning 2011
Featured on NBC-30 Cultivating Connecticut horticulture segments, 2006
Develop and deliver presentation on soils and other topics to the general public as well as at professional venues
Teach UConn Master Gardeners about soils, soil fertility, plant nutrition and composting
Teach MA Master Gardeners about soils, soil fertility and plant nutrition
Teach Soils & Soil Fertility and Plant Nutrition sections of CNLA/s Accredited Nursery Professional Program
Guest lecturer for PLSC 298 (2006), Soils 2125 (since 1999), Turf Mgt 1100 (since 2017)
Assist NRCS with statewide soils training for CT Envirothon and administrative of statewide exam
Assist NRCS with half day soils session for UConn Natural Resources Conservation Academy
Plan, solicit speakers and assist with implementation of UConn Perennial Plant and Garden Conferences as a member of Ornamental Plant Extension Team (2007-2017)
Serve on local and regional committees
Search committee member thrice for Laboratory Technician II (2007, 2018, 2019)
Search committee member for Assistant Extension Educator UConn Plant Diagnostic Lab (2019)
Engage in professional development
Extension Instructor/Laboratory Manager, University of Connecticut, Dept. of Plant Science. 1998 – 2005
Responsible for administration of UConn Soil Nutrient Analysis Laboratory including daily operations, personnel management, equipment purchasing and maintenance, financial obligations, chemical hygiene plan, collaboration with researchers, and related publications (lab processes 10,000 samples/year)
Oversaw purchasing and installation of inductively coulpes argon plasma spectrometer (ICP)
Write/update fact sheets and submit articles for Center newsletter
Featured on segment of Martha Stewart Living, 2004
Served as member on CPTV Family Science Expo Advisory Board and coordinated soil lab/Master Gardener efforts for exhibit at annual Expo
Initiated and staffed free soil pH testing booth at Cornucopia, Know Your Town Fair and CT Flower and Garden Show
Teach UConn Master Gardeners about soils, soil fertility, plant nutrition and composting
Teach MA Master Gardeners about soils, soil fertility and plant nutrition
Search committee chair for Laboratory Technician, 2004
Search committee member for Program Assistant, 2004
Search committee member for 2 Program Aides, 2004
Coordinated weekly newspaper column & wrote biweekly columns starting in 2004
Develop and present workshops and talks on soils and related topics to the general public as well as professional organizations
Guest lecturer for PLSC 252, SAPL 22, SAPL 029, SAPL 022, PLSC 258
Host soil testing lab tours upon request
Newspaper Columnist, Southbridge Evening News. 1989 – 2003
Wrote weekly gardening column for publication in Southbridge Evening News and related publications
Extension Technician, University of Massachusetts Soil and Plant Testing Laboratory, Amherst, MA. 1989 – 1998
Responsible for soil and plant tissue preparation
Made reagents and maintained chemical inventory
Trained and oversaw student employees
Analyze samples using pH meter, ICP, atomic absorption unit, ion selective electrodes and other laboratory equipment
Responded to phone inquiries
Wrote fact sheets
Designed exhibit and represented lab at Massachusetts Horticulture Society Flower Show in Boston
Horticulture Technician/Master Gardener Coordinator, Worcester MA County Cooperative Extension. 1988 – 1989
Selected candidates, solicited speakers, created agenda, facilitated training sessions, conducted evaluation, final exam and monthly newsletter & meetings for Master Gardeners and interns
Contributed written materials for UMass Garden Clippings, UMass Garden Calendar and the Extension Center's quarterly newsletter
Mentored Master Gardener interns and their interactions with clients on the phone and in person
Responded to inquiries from public on various horticultural topics
Wrote and updated fact sheets
Responded to newspaper requests for horticultural information
Horticulturist, Old Sturbridge Village, Sturbridge, MA. 1986 – 1988
Created designs and selected plants for annual, perennial, bulb and mum plantings
Raised 10,000 plants each year from seed for bedding
Maintained garden beds including pruning, watering, fertilizing and pest control
Develop and delivered presentation at OSV Garden Days
Managed and propagated plants in 3 greenhouses
Professional Societies
Soil Society of Southern New England, professional member
Soil Science Society of America, member
GardenComm (formerly Garden Writers Association), professional member
Awards
Doris Lane Award, Outreach/Public Engagement. UConn Cooperative Extension. 2018
Arland R. Meade Communications Award, Outreach/Public Engagement, UConn Cooperative Extension. 2014
CNLA Accreditation Program, Citation for service. 2010
National Future Farmers of America, Citation for service. 1999
Exotic Cage Bird Society of New England, Citation for service. 1988